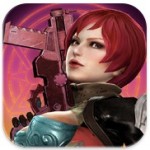 Almost a year ago to the day, at last year's Tokyo Game Show, Square Enix announced a card battling game called Demon's Score. Well, at least that's what we thought at the time, but thanks to some sketchy translation issues that wasn't actually the case. Square Enix WAS working on a card-battling game, and in fact it launched just last week. It's not called Demon's Score, though, it's called Guardian Cross (Free) and it's free to download and check out for yourself, or you can see what people have been saying about it in our forums.
Now, Demon's Score ($4.99) is actually a thing, too. In fact, back at E3 in June we got our hands on an early version of Demon's Score, and thought it was pretty cool in our brief time with it. Visually, the game plays out like an on-rails shooter type of thing, but the gameplay is based mostly around rhythm-tapping, similar to Elite Beat Agents and many other titles. Demon's Score is also built using the Unreal Engine, so it looks pretty darn good. You can check it out in this trailer, though I'll leave no comment about the music.
So hey, just a head's up that Square Enix has been on a roll as of late. First they released a brand new RPG called Drakerider (Free) earlier this month, then it was Guardian Cross last week, and now Demon's Score this week. What'll it be next week? I don't know, but I'm hoping it's something. At any rate, we're tearing through these games as we speak, but you can check out our forums for even more impressions and discussion on Demon's Score.