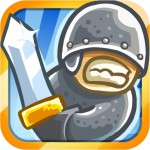 Back in December of last year, Ironhide Games released an iPad version of their hugely popular tower defense Flash game Kingdom Rush HD (Free). It didn't drastically reinvent the tower defense genre or anything, but its production values were at a really high level and the game exuded a very likable kind of charm. Of course, it didn't hurt that it had fun and challenging gameplay, either.
One major bummer though was that it was iPad only, but this past June Ironhide let everyone with iPhones and iPod touches in on the fun when they released a small-screened version simply called Kingdom Rush (Free). And for the next week or so, you can grab this version of the game totally for free.
Be sure to check out our original review of the iPad version, and know that since then both the iPad and iPhone versions have been updated pretty heavily, most recently adding a new 2-level campaign, a new hero type, and a new in-game shop to buy different goodies. You can also visit our forums for discussion or help with Kingdom Rush, but for free it's pretty much a must download if you like these kinds of games in any way.