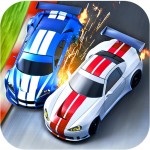 Top-down arcade racers seem to do well on iOS, and it's really not too hard to see why. Combining quick gameplay with simple controls and fast reflexes is a good formula for approachability. Maciek Drejak Labs successfully implemented that blueprint once before with Vs Racing (Free), and now with Vs Racing 2 (Free), the developer returns for another try. While Vs Racing 2 certainly offers some refinements and more of what made its predecessor fun, the exceedingly simple focus is sure to disappoint some looking for a bit more depth.
Like its predecessor, Vs Racing 2 focuses on fast-paced arcade racing with little in terms of fluff. The singe player campaign pits you against multiple opponents (or head-to-head occasionally) with the sole goal being to finish in first. Coins are awarded for beating the opposition, as well as for doing in-race goals such as drifting, hitting other cars ("grinding") and passing up opponents.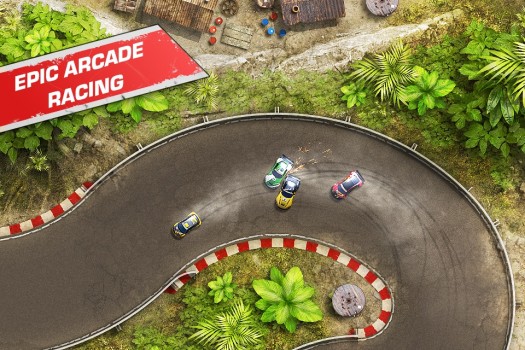 Coins can then be used to upgrade your car or purchase new vehicles (which in turn have their own attributes to upgrade). Vs Racing 2 does offer some IAP unlockables, but they're restricted to visual upgrades. Otherwise, there's no story, campaign, or progression other than a 3-star system with the second set of tracks unlockable after a certain amount of stars.
All of the control schemes in Vs Racing 2 are focused on simple, one touch mechanisms for driving. The default is a steering wheel with an arrow showing the absolute direction of your car. Tapping and moving the wheel changes your car's direction, although it's a little odd since the wheel focuses on absolute direction rather than relative. Thankfully, a few other options are available, including the simple left and right arrows. Overall, there should be an option for everyone, I at least found one of  the controls responsive and working well for me within the gameplay.
Another area that Vs Racing 2 improves upon is its multiplayer modes. Again, multiplayer is available via local Wifi or Bluetooth, and the inclusion of power-ups and weapons (such as Nitro, Oil-slicks and missiles) add some variety to the quick matches. Unfortunately, as was the case in Vs Racing, there's no true online multiplayer; players are restricted to sending ghost data to others online. That's a shame because I think online multiplayer and a good leaderboard system are essential missing pieces.
Where Vs Racing 2 falters somewhat is with variety in both levels and gameplay. On the level front, a lot of tracks feel very similar to each other, with Racing using mirrored tracks and opposite paths to try and extend out the actual track designs employed. In addition, Vs. Racing 2 doesn't have much in terms of visual variety with less than a handful of themes and vehicles available for use. Granted, we've heard promises of future content available via updates (with over 4 additional cars coming in 'future updates'), but until then content feels a little light.
'A little light' is probably the best way to describe Vs Racing 2. Yes, if you loved the original, you will undoubtedly enjoy Vs Racing 2. As far as being an arcade racer, the experience is about as smooth as one can expect for a game that focuses more on fundamentals. However, improvements over the original feel relatively minor, and the missing online multiplayer means Vs Racing 2 lacks that big ticket feature that sequels usually try and include. Still, it's an enjoyable arcade racer, and for those looking for some simple driving it's worth a look.