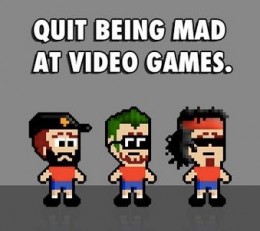 Last month, BeaverTap Games released Mikey Shorts ($1.99), a platforming game with a retro-inspired look and a focus on speedrunning. In short, we gave Mikey Shorts 5 stars in our review and it's easily one of the best platformers that I've ever played on iOS, or any platform for that matter. Not bad for a two-man studio's first ever release.
Acclaim for Mikey Shorts swelled as it received critical praise from outlets across the 'net, and it's been one of the most popular games in our forums with players battling back and forth for leaderboard supremacy. Today, Mikey Shorts gets even sweeter with its first significant content update.
First there's a set of 12 brand new Challenge levels, bringing the total number of levels to 60 not including the 24 found in Story mode. These new levels are just as devious as the others, begging you to try and retry endlessly to find that best route and discover those extra little design nuances that will let you score the quickest time possible.
Along with the new Challenge levels comes 24 new shop items to outfit your character with. Mixing and matching gear to create different avatars has been an unexpected joy in Mikey Shorts, and with this latest batch of items you can even create near-lifelike representations of the TouchArcade Crew: myself, Brad and Eli, as you can see from the header image at the top of this post. Fulfill your fantasies of playing with the digital us!
In addition, support has been built in for both the iCade and the Joypad controller app, if you feel you need some options other than the virtual controls. Speaking of those, you can also now change the opacity of those virtual buttons to suit your tastes. Finally, a lite version of Mikey Shorts has just appeared, in case you've been wrestling with whether or not to spend your hard earned dollar on the game. The first 4 Story levels are available in the lite version.
Mikey Shorts is something special. I think I've logged more time with it than any other game released this year, and as long as they keep on adding new content that probably won't change. If you've been on the fence because you aren't sure how well platformers work on the touch screen, then at least give the new lite version a try and I think you'll be pleasantly surprised. Also, be sure to swing by the forum thread where BeaverTap are actively taking suggestions for future costume ideas.