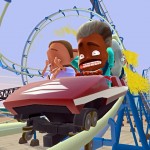 Frontier Developments made their iOS splash with excellent ports of the Wiiware titles LostWinds ($3.99) and LostWinds 2 ($3.99) and a touchscreen version of Microsoft's Kinectimals ($2.99) game. Now, they're digging into their past experience a bit for their next iOS release. Frontier has worked in both the Rollercoaster Tycoon and Thrillville series, and they're getting ready to ride the rails again with Coaster Crazy.
Unsurprisingly, Coaster Crazy has you building… well, crazy rollercoasters. But there's a puzzle element as well. The riders of your coaster designs demand certain things: some are speed freaks and want the fastest ride possible, some like tons of loops, and so forth. Your job is to design the tracks in a way that caters to everybody's needs in a balanced fashion, which sounds easier said than done.
Check out the trailer for Coaster Crazy which gives you a good idea of the personalities in the game as well as a look at the ultra-intuitive touchscreen system for building your own coasters.
PocketGamer got their hands on an early version of Coaster Crazy at the Frontier offices in England and talked with the development team to learn some of the inspirations and features in the game, so definitely give that a look. Coaster Crazy will initially come with 30 single-player challenges, but there's an online component too that will allow you to download and try out the coasters that have been created by your friends and vice versa.
It all sounds really pretty cool, and I've been dying for a fun and accessible coaster building game for quite some time now. Coaster Crazy looks to fit that bill and I'm looking forward to checking it out when it launches sometime before Christmas this year.