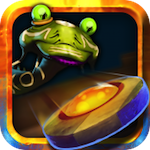 Earlier this morning, Eli and I spent some time with Shufflepuck Cantina (Free). It's a little like Poker Night at the Inventory, except with aliens and, uh, air hockey. In the game, you play as an outsider who finds himself stuck in a space cantina. Your task, for some reason, is to beat everyone in the cantina at air hockey. As you play, you'll learn the backstory behind every character and unlock special moves for doing so.
If you're wondering, Shufflepuck is an Agharta Studios joint. This is the studio behind a pretty popular adventure game series on mobile, 1112. Aghata's attention to atmosphere and the character, as displayed in its other games, really shows through in Shufflepuck.
Anyway, if you'd like to see the game in action, feel free below.