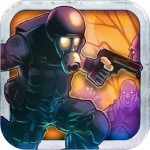 It's always nice to break the Wednesday night release routine, and today Wandake's Apocalypse Max ($3.99) does just that. It's a side-scrolling action platformer with a really sharp look and great presentation, and an especially nice control scheme. Brad and Eli kicked the tires a bit in a TA Plays video, and liked what they saw.
If you like your gameplay videos with a hot dose of off-topic discussion about early nineties television programming, give the TA Plays a look. Or you can check out the official Apocalypse Max trailer below.
I've played Apocalypse Max a bit as well, and it's a really stylish game. It employs an auto-aiming feature to keep things simple for the touch screen, which I think was the right move, and I'm enjoying the balance between the swipe-based melee attacks and the gunplay.
We'll continue to plug away at Apocalypse Max and see how it holds up in the long haul, but if you're the spontaneous type you can check out our forums for more impressions or just live on the wild side and take that $3 leap of faith that it's up your alley.