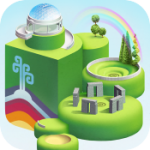 Far cheaper, less sweaty, and more bizarre than any real-world miniature golf course I've played on, Wonderputt (Free) is a polymorphic putt-putt painting brought to life by the charming design of Damp Gnat.
Easily observed in the trailer, Wonderputt contains a ridiculous amount of creativity in its 18 holes and the way the course transforms between each hole. Playing on a cubic river optical illusion, a farm mowed by hyperactive cows, lily pads on a lake, or a hill from a fresh avalanche keeps the golf game fresh with unique obstacles.
Wonderputt's biggest flaw is that it penalizes players' scores for the time spent completing the course. How can I not get lost in its visuals?! Maybe by the 5th or 10th playthrough I'll be less distracted.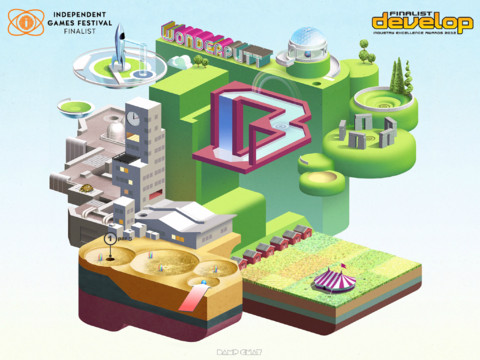 That said, Wonderputt has only one golf course in the whole game and is the only other let down here. However, in the second playthrough, it becomes much more fun and manageable with the Wonder rainbow collectibles littered across each course. These collectibles seem arranged in a way that the most geometric of players can connect in one shot. It certainly helped me earn two hole-in-ones.
I had actually played Wonderputt online for free last year, but my iPad experience was definitely more memorable. I recall giving up on the pull-back-and-release gameplay with a mouse. Thankfully, the tiny golf ball feels easier to putt with my finger.
Feeling so familiar, I cheated a little and asked developer Reece Millidge what was new to the iPad version. He said it contains a larger canvas than the Flash version, HD graphics for retina display, and a triple-length soundtrack. As for why I played slightly better on the iPad version, he says he made the holes slightly bigger to help with the inaccuracy of fingers compared to the mouse.
Wonderputt has Game Center leaderboard integration, but it offers some homemade achievements that I think add more to the replayability, asking players to eventually hole-in-one everything. Also worth noting, music and sound effects are light but fitting for the game. I'd rather they complement but not overpower the striking visuals.
Wonderputt joins a number of other great mini golf style games on the App Store, and I can see several casual and hardcore players wanting to explore this eccentric golf course from end to end at least a few times. If you're the guy or gal with the fancy iPad 2 or 3, Wonderputt is one of those sharp apps you just have to show everyone and will definitely earn a few cool points in doing so.