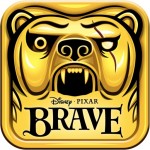 When Temple Run Brave ($1.99) hit the App Store in June to coincide with the release of Disney's movie Brave, it was the kind of clone that I like to see: a sanctioned one. We see a near-endless supply of Temple Run (Free) clones released each week ever since the game's popularity skyrocketed late last year, but this time around Disney Mobile and Imangi Studios partnered up for an official version of Temple Run which fit right in with the movie's characters and setting.
I didn't even mind that Temple Run Brave cost 99¢ when it came out. It offered basically the exact same gameplay as the free Temple Run but with a new arrow-shooting mechanic and an increase in visual flare. They even gave you a decent chunk of in-game currency for the 99¢ price of admission which gave you a head start on upgrades and items, so yeah I didn't have a problem dropping a buck on Brave at the time. However, you don't even need 99 pennies to enjoy the game at the moment as the price is currently dropped to free. And, you'll still get the in-game coin bonus for downloading even though you didn't pay for the game. Sweet!
Initially, the price change brought some controversy as it also inserted ads into the game which caused quite a stir amongst the fanbase. Not just because a previously paid game went free, as that happens all the time and to be honest it was pretty much expected that Temple Run Brave would go free at some point. But inserting ads into a game that a lot of people have paid for already is typically considered bad form.
Luckily, it seems that Imangi and Disney Mobile realized this wasn't going to go so well, and already an update has been issued that appears to have completely removed any existence of advertisements. I don't really have a problem with ads in games, though if there's the option to disable them I'll do it every time. But there's definitely something wrong with having a game that you previously paid for getting ads thrust into it without warning. I'm glad that they thought better of it.
If you hadn't checked out Temple Run Brave yet, definitely do so now that it's free until September 14th.