They say good things come to those who wait, and that's certainly true today as we just launched the universal version of the TouchArcade App (Free). It should be live everywhere now, so if you've already got it installed be sure to check your updates and grab the new version.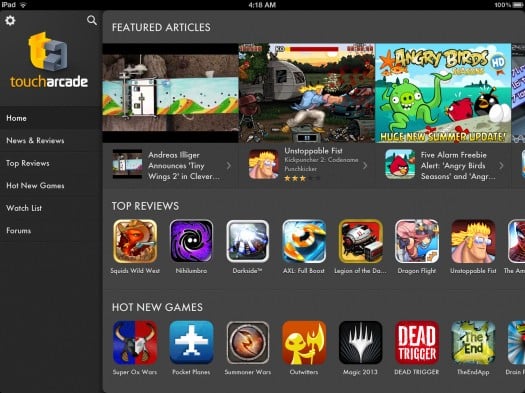 I've actually found myself preferring the iPad app more than even just using a standard web browser to read TouchArcade. It just feels right. All the functionality from the iPhone app is in there, tightly wrapped in an iPad-native bundle. We also made some improvements that will benefit the iPhone version as well, such as being able to jump directly to the article comments from the header, and changing the font size in the settings.
Additionally, on both versions you'll be able to select multiple upcoming games from a single post, and we'll have a story up later today where you can see how that all works in action. Last, but certainly not least, we've got a custom push notification sound so you'll know when you're getting a TouchArcade alert versus your standard run of the mill iOS alert.
Give it a try and let us know what you think! If you run into any problems, don't hesitate to fire off an email to [email protected]. And, as always, we've got to give a massive shout out to Flexbits and Bartelme Design for making this whole thing possible.