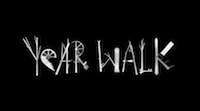 Beat Sneak Bandit creator Simogo just removed the wraps off of Year Walk, the studio's next game. Due to hit later this winter, it's billed as a "2D adventure about folklore, strange creatures, and maybe a little bit of the occult." If we're reading between the lines of the game's first teaser trailer correctly, we're guessing it's something of a horror game — a direction we certainly didn't expect from Simogo.
It's a welcome one, though. Year Walk takes place in 19th century Sweden and tasks you with a vision quest that'll see you opening rifts and bending dimensions as you try to "fully understand the events that took place on that cold New Year's Eve." Simogo says you'll be able to fully interact with all the world's creatures and objects, via a first-person perspective.
Year Walk was teased for a while with cryptic messages and photos. Fans on our boards are currently trying to crack anything that they see from the studio. Follow along if you'd like.
We'll continue following Year Walk, too, so stay tuned.