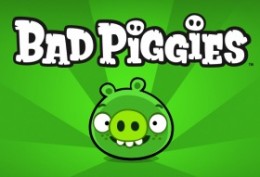 Neat: Rovio Mobile's next game based in the Angry Birds universe doesn't star the Angry Birds. Instead, it puts the pigs front and center, and in a playable role.
Earlier this morning, Rovio announced Bad Piggies, a game that will turn "the franchise on its head." The studio is being needlessly vague with the game's actual mechanic, but it is promising "all-new, never-before-seen gameplay," whatever that means.
Bad Piggies is slated to hit soon — like, September 27 soon across iPhone, iPod Touch, and iPad, as well as Android devices and Mac. Following the launch, the game will appear on Windows Phone and PC. Bad Piggies shower curtains, rugs, underwear, and cat toys are sure to follow.
We've got a trailer above, if you're interested.