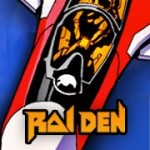 I love scrolling shooters and when somebody asks me what my all-time favorite, I have a stock answer: Raiden. Originally launching way back in 1990, Raiden was the first shmup to really catch my attention with its huge enemies and flashy special effects. The shooter genre has advanced a lot since then with tons of amazing titles, but Raiden will always hold that special nostalgic spot in my heart.
Now, a moment I've long wanted to happen is finally going to be a reality: the original Raiden and 3 of its later spinoff games are coming to iOS as part of a package called Raiden Legacy. It'll include Raiden, Raiden Fighters, Raiden Fighters II, and Raiden Fighters Jet.

Best of all, the package is being handled by retro porting experts DotEmu, who are responsible for the excellent iOS ports of classics such as Metal Slug 3 ($2.99), Blazing Star ($0.99), and R-Type ($0.99). It's a pretty safe bet they'll do proper justice to a legend like Raiden.
No other details are available currently, but you can keep tabs on the official Facebook page for Raiden Legacy and look for the game to hit sometime this fall.