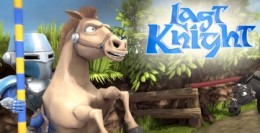 It was over a year ago now that Crescent Moon and Toco Games announced Last Knight, an upcoming endless runner featuring jousting and ragdoll horse physics. It falls in the 'behind-the-back Temple Run-style genre, except when Last Knight was announced in August of last year that wasn't even a thing yet. Temple Run was but a few weeks old and had yet to hit the big time and become endlessly cloned on the App Store.
So after being on hiatus for part of this past year, development has started back up on Last Knight, and there's a new trailer to show off the progress it's made since the last time we saw it. I've got to say, it looks pretty darn cool.
If you weren't paying attention to the captions because you were watching what happens in the trailer, then I got your back. I did that too. Basically, it breaks down that Last Knight will have six different kinds of environments that will each become more elaborate and challenging the farther you go. There will be a Story mode as well as a randomly generated Arcade mode, and customizable characters and power-ups are also in the mix.
It sounds, and looks, great so far. What might not be so great for some of you is that Last Knight will only be compatible with iPhone 4 devices and above, excluding even the 4th generation iPod touch, due to using the latest Unreal Development Kit. That's the price we pay for progress, I guess. I'm excited nonetheless, and as soon as we have more information like pricing and release date for Last Knight we'll be sure to let you know.