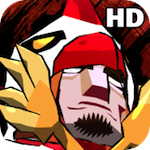 This afternoon, Jared and I sat down with SuperCock ($0.99). It's a 2D, side-scrolling action game in which you play as a man dressed up as a rooster. Also, you kill zombies. We're not sure of the whys and wheres and hows, either. But zombies.
What caught our all-seeing eye — outside of the title, of course — is its slick, no-button core action mechanic. Unfortunately, its simplicity might be also be a downfall, as the game doesn't have a lot to offer outside of mindless bashing.
Of course, a lot of free-to-play functionality compliments the moment-to-moment action. When you beat a level you earn currency that you can use to level up your character and add new spells to your repertoire. You can also buy characters, but you'll probably need to spend real money on the fake money in order to do the latter — unless you're really into what this game has to offer.
Anyway, there's a solid look. We don't recommend this game straight-up, so check that out and see if it clicks with you.