In May of 2010, developer Jared Bailey (fantastic name, I might add) released Cubed Rally Racer (Free), an isometric retro-inspired racing game with randomly generated tracks. In short, we thought it was really awesome, and it built up quite a dedicated following of fans in our community as well.
But the grind of real life and day jobs at the time took Jared away from indie development, despite having a well-loved release under his belt. A couple of years removed from Cubed Rally Racer's release, and now Jared Bailey is back with a new upcoming project called Infinite Surf.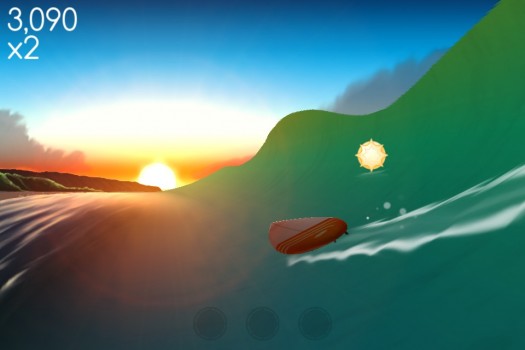 Infinite Surf is a decidedly different beast than Cubed Rally Racer, attempting to catch the thrill of surfing from a sort of 3rd-person perspective. It uses simple tilt-based controls as you ride an endless wave collecting coins going for a top distance.
It sounds pretty basic on the surface, but Infinite Surf will offer a ton of options to cater the gameplay to different tastes. One is the ability to choose how fast you go, with higher multiplier rewards for those that attempt greater speeds. This will ensure all skill levels will be able to enjoy the game but high score chasers can ramp up the challenge if they wish.
There will also be different kinds of surfboards that each have unique abilities, like one that allows you to stay in the wave barrel for longer and one that is especially adept at turning. These abilities can be upgraded utilizing the coins picked up while playing.
Infinite Surf certainly looks unique, and based on Cubed Rally Racer I'm anxious to try anything Mr. Bailey has cooking. It's been submitted to Apple already and should be out in the next couple of weeks as a 99¢ Universal app.