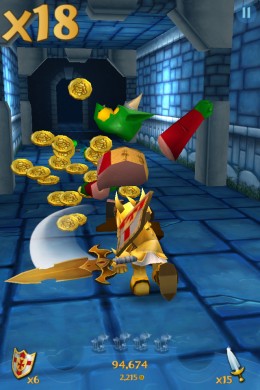 If your afternoons are anything like my afternoons, chances are you're kicking back right now drinking a stevia-laden American-sized cup of coffee thinking about when you're going to take time out of your day to go to the gym while you hopelessly scroll through your mountain of RSS feeds looking for more Temple Run spinoffs. If that's not what you're doing right now, you should be happy that there's someone like me out there keeping my eye out for new Temple Run-likes. The latest comes from Simultronics, the guys behind Tiny Heroes (Free), which is an amazing tower defense game that we absolutely loved in our five star review.
One Epic Knight looks pretty cool in that we haven't seen a Temple Run clone with a medieval theme yet, but I think we can all agree this behind the back runner trend is getting incredibly tiring- Especially now that we've got developers capable of creating such incredible games (like Tiny Heroes and its predecessors geoDefense ($1.99) and geoDefense Swarm ($1.99)) that are hopping aboard the bandwagon.
Take a look at the game in action-
If all goes as planned, One Epic Knight should pop up on the App Store next Wednesday night with the onslaught of other releases. I'm excited to give it a spin, err, run, to see what if anything they do new to the Temple Run formula. For more details, check out the game's official web site.