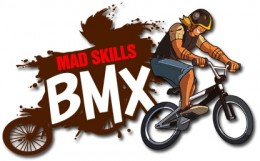 Early last year, Turborilla released Mad Skills Motocross ($0.99), an excellent side-scrolling motocross racing game. We really liked it in our review for its great visual style, easy to use control scheme, well-designed tracks, and a fantastic physics engine which really took every little nuance of your movements into consideration during a race.
It's been a while, but Turborilla has finally finished up the sequel to the game which takes a stab at the world of BMX biking. Check out the first trailer for Mad Skills BMX below.
As the, uh, suggestive trailer shows, Mad Skills BMX retains the same side-by-side racing that was found in the original, but with a new gesture-based control system rather than just virtual buttons. It's also visually a big step up from the first game, and having Strung Out for the soundtrack is a bonus for fans of the legendary punk band (like me).
Mad Skills BMX looks pretty awesome, especially if you were a fan of the first game, and you'll be able to get your hands on it when it hits the App Store with this week's batch of new releases.