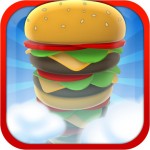 The brothers Nimblebit, Ian and David Marsh, have come a long ways since first busting onto the iOS scene when the App Store launched in mid-2008. They've always been able to nail the kind of simplistic game mechanics that work best on a touch screen but without dumbing the experience down so much that it isn't fun. It's a delicate balance, and Nimblebit has a whole library that showcases their talents in this area.
Most people probably associate Nimblebit with their mega-hits Tiny Tower (Free) and Pocket Frogs (Free), which came along and blasted their download statistics into the stratosphere, but an interesting fact that I learned today is that their most downloaded game is actually Sky Burger (Free) which released in 2009. It has 13.7 million total downloads, compared to Tiny Tower's 12.6 million.
Today, to celebrate those mighty download numbers as well as the twin brothers' birthday, Nimblebit has released a brand new update for Sky Burger which adds Retina Display support, Game Center achievements and leaderboards, and Twitter sharing.
Sky Burger builds upon the tilting and stacking gameplay of the previous Nimblebit game Scoops (Free). You tilt your device to collect ingredients that fall from the sky, stacking them together into an insanely tall burger tower. The trick is you have to create the burger as it was ordered, which means only stacking the requested ingredients and avoiding anything else.
It really is stupidly fun, and I can see why Sky Burger has garnered so many millions of downloads. It's been a go-to game for me ever since release, and I've been dreaming of an update like this. Like all Nimblebit games, Sky Burger is free so there's no reason not to check it out if you haven't already.