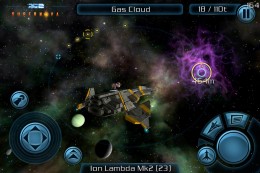 Galaxy on Fire creator Fish Labs just shot us a note: Galaxy on Fire 2 – Supernova, the follow-up to the game's last expansion Valkyrie, has been delayed into September. Turns out that launching cross-compatibility across three different versions — SD, HD, Full HD for OSX — and three different platforms is tough. Fish Labs explains:
"As we will launch SD, HD and Full HD (OSX) simultaneously and a whole play through of GOF2, Valkyrie and Supernova takes 20 hrs. Our testing scenario with various update stages on several devices and cross-platform compatible save games became very complex, and we have to postpone the release slightly to someday in September," the note says.
It's a piece of bummer news for the game's fans, for sure, but this seems like a pretty solid reason for a delay. Making games, we hear, is pretty hard — and doing something like this is even harder.
In better news, we've got a first-look at a new trailer for the game. As you'll see, it is definitely a looker, and it's definitely a continuation of the series.