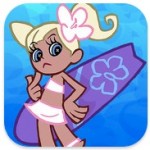 If you can muster up the energy to remember way back in January of 2010, you'll recall that we told you how legendary Final Fantasy creator Hironobu Sakaguchi was officially working on projects for the iPhone with his Mistwalker studio. Well, it may have taken a while, but Mistwalker's first iOS release is now available, and it's called Party Wave (Free).
According to the game's website, Sakaguchi likes to go surfing in his spare time (who knew?), and when multiple surfers get up on the same wave it's known as a "party wave." This was the inspiration that went into the iOS game Party Wave.
You start at a top-down view of the ocean and must use a line-drawing type of mechanic to direct paddling surfers over to a special spot where an oncoming wave will break. You'll have to take care to avoid any obstacles and get to the break point before the wave hits. Once you get your surfers to the spot and the wave breaks, it switches to a side-view of them surfing on the wave, sort of reminiscent of the surfing sequences in the classic T&C Surf Designs NES game.
In this side-view, the object is to tap on the surfers to get them to go to the top of the breaking wave. If you let them get close enough to the bottom they'll begin to flash, and tapping them then will cause them to catch air at the top of the wave, and you can take it even further by pulling off tricks while airborne. All the while you need to be juggling how ever many surfers you have on the party wave while keeping them from wiping out at the bottom or running into various hazards like sea creatures.
It's actually really quite fun, and as you can see in the above trailer things only get more hectic and challenging as you progress. I've really just scratched the surface of it so far, but the base mechanics are definitely solid and I'm enjoying the lighthearted nature of Party Wave. If you're a diehard Hironobu Sakaguchi fan or you're just interested in clever arcade games for your iPhone, definitely give Party Wave a look and we'll be anxious to see what else Mistwalker brings to the App Store in the future.