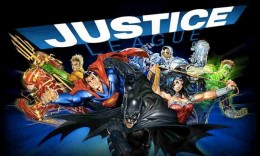 If you headed out to Comic-Con in San Diego last weekend, or if you were following along from home, and are sad to see it coming to an end, developer Netmarble Mobile is looking to give you your superhero fix this summer with Justice League: Earth's Final Defense heading to iOS.
It looks like your typical 3D beat 'em up affair, which is a-ok with me as long as I get to live vicariously as one of my favorite superheroes. Justice League will offer 5 different characters to play as: Batman, Superman, Wonder Woman, The Flash, and Green Lantern. Each character will have customizable abilities, unlockable outfits, and Support Hero Cards which gives the opportunity for tons of other superheroes to jump into the fold. Check out the trailer below.
Justice League: Earth's Final Defense is hopefully going to hit in the next month or so, but with Apple's approval process and the myriad of incidentals that can happen during development this isn't quite set in stone. But it's close, and looks pretty cool as far as I'm concerned. Also, the developer is holding an open beta testing program right in our own forums, so if you're in the testing mood be sure to check that out as well.
[Via AppAdvice]