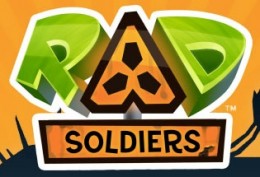 Between the recent releases of Pocket Heroes ($0.99) and Outwitters (Free), asynchronous online turn-based games that don't involve making words with friends seem to be the hot new thing. And with good reason: this type of multiplayer works beautifully with gaming on-the-go for more than just simple word or board games.
In April we told you how triple A console developer Splash Damage had formed a new in-house mobile development team called WarChest Limited, and that their first mobile project would be a turn-based strategy title called RAD Soldiers. Earlier today, RAD Soldiers popped up in the Canadian App Store [Link] as part of a limited release beta.
The crux of the gameplay in RAD Soldiers is its asynchronous online multiplayer, but it does appear to have a single-player component in the form of challenges against the AI. RAD Soldiers is also quite an attractive game, with colorful 3D graphics and a lot of personality. Here's another look at the previously released trailer.
Like we talked about earlier today with Happy Street, if you're a true Canadian or just the proud owner of a Canadian iTunes account you can head over and download RAD Soldiers for free. We'll be calling our resident Canadian into action to check it out too, and we'll be sure to let you know as soon as a US release date is confirmed. As always you can find plenty more information and gameplay impressions from the members in our forums.
Canadian App Store Link: RAD Soldiers, Free (Universal)