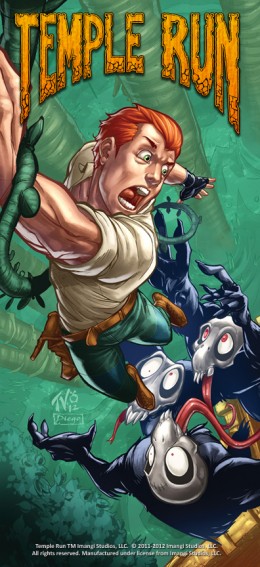 The Temple Run [Free] brand is expanding into comic books. This morning, Ape Entertainment is announcing that it has secured a licensing agreement with Imangi Studios that will see the creation of "a series of original digital comic books and graphic novels" based on the Imangi's massively popular endless runner. The comics will explore the backstory of the game, as well as the "mysteries" of its temples.
Ape isn't a stranger to turning mobile games into comic books. In 2010, it worked with Bolt Creative on a Pocket God series. It has also put out a Cut The Rope comic.
The digital versions of Temple Run: The Game: The Comic will be delivered through a stand-alone app across every iOS device. Print versions are planned, too. And while we get a sense that we'll be seeing these comics soon, no hard date has been announced.
Temple Run has been an incredible success, and it seems likely that Imangi is going to continue to build the brand through different forms of media and different games. Just a couple of weeks ago, in fact, Imangi and Disney Mobile put out a Temple Run Brave tie-in that seriously rocked. If you haven't checked out Temple Run yet, go ahead. It's free and so good that it's spawning its on sub-genre of similar behind-the-back runners.