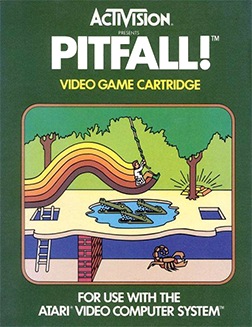 Last week we learned that all future Call of Duty mobile titles will be handled by Activision's Leeds, UK studio, but according to a statement given to UK game site MCV, that particular studio is actually currently working on a revamped Pitfall for release this year as part of the classic platformer's 30th anniversary.
The statement tried to downplay the reports last week about the Leeds team being the exclusive developer of mobile CoD titles, and we even urged in our own reporting that the source might be a bit flakey. However, they could just be downplaying it now because they aren't ready to announce anything about a new mobile Call of Duty just yet.
While it's fun to speculate about that, I'm also a huge fan of Pitfall since the Atari 2600 days and I'd love to see a decent modern remake come out for my favorite gaming platform (I'm talking about iOS, of course). With so many gamers having nostalgic feelings towards Pitfall though it can be a delicate dance between keeping the game true to its roots while still bringing it to modern day standards. As we all know these kinds of things don't always turn out so fantastic.
I guess we'll just have to wait and see how it goes, as it sounds like Activision Leeds is getting close to finishing off the title and will be revealing more details on it soon. Until then you can talk up the impending Pitfall iOS remake in our forums.