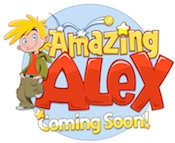 Wow, this Thursday is heating up. According to a blog post on Rovio Mobile's official site, Amazing Alex is due out this July 12. This date pits it against Tiny Wings 2.0 and Pocket Heroes, both of which are still set to debut the same day.
In case you haven't been playing along at home, Amazing Alex is a, er… something of a re-mix of physics-based puzzle game called Casey's Contraptions. It'll rock fresher art and, presumably, new puzzles, goals, and items. For sure, it'll have you building Rube Goldberg-style contraptions in order to fulfill whacky goals. A level editor is also part of the new package.
A new trailer has been released. Check it out if you're curious. We definitely want to see, so we're pleased that Alex is coming out sooner than later.