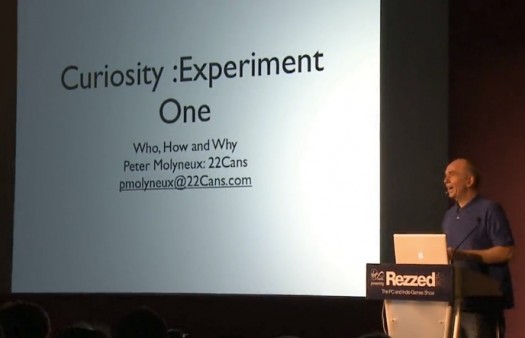 Back at E3 last month we learned that famed video game designer Peter Molyneux's new studio 22 Cans would be releasing a series of small experimental titles, each focused on one singular concept or experience, leading up to the release of their first traditional game over the course of the next few years.
On Friday at the Rezzed game conference in the UK, Molyneux announced that the first title in this series, Curiosity, will be launching on August 22nd on iOS, Android and PC. Curiosity involves players virtually chipping away at a gigantic cube made up of tens of millions of tinier cubes. Up to one million players can be hacking away at the cube at the same time.
In a, let's say interesting, twist Curiosity will have in-app purchases for tools that can help you chip apart the giant cube more quickly, including a single diamond pickaxe which will cost $50,000. Hang on, I'm running to grab my credit card right now.
While (theoretically) millions of players will all work towards the goal of chipping away the massive cube, only one lucky person will actually be able to claim the secret at the center. A secret Molyneux describes as "life-changingly important" and "so amazing I think it will appear on news reports."
I know this might sound more like the rantings of Peter Molyneux's parody Twitter account Peter Molydeux, but I am assured they are from the man himself. It all seems like some sort of whacky social experiment, but at the very least 22 Cans has me curious about Curiosity, and I'm eager to see firsthand what this is all about when it launches next month.
[Via Eurogamer]