Words With Friends HD [$2.99] is, like, totally HD now. The game's latest update, which went live just the other afternoon, has added support for the new iPad's display. Version 5.0 also sees the addition of a new sidebar interface element that hooks you up with links to other Zynga games and lets you pester your friends via social media.
Of course, this update also includes nebulous "bug fixes and optimizations." Words With Friends [99¢] on iPhone and iPod Touch has also been updated with these, and as you may have just noticed, it's also just 99¢ instead of its usual $2.99.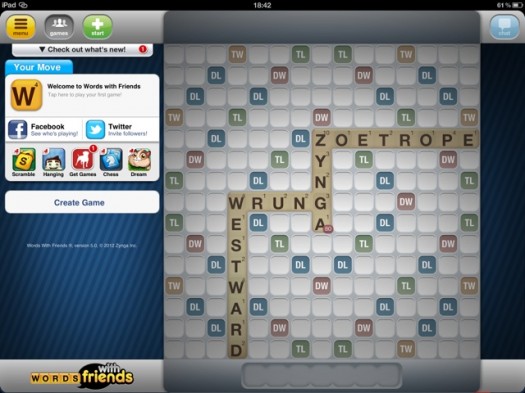 It's hard to believe there's a person out there who hasn't jumped into Words With Friends yet, BUT if you're that dude or dudette, consider giving it a go. It's an awesome Scrabble-like game that feels (and now looks) great on touch devices.
[image via App Advice]