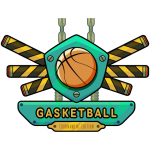 It's been awhile, so in case you forgot: Mikengreg of Solipskier fame is working on a physics-based puzzler-slash-user creation-slash-basketball game called Gasketball. Our impression of what we've seen so far is positive — its certainly stylish and the Rube Goldbergian contraptions will probably be a ton of fun to put together.
Mikengreg is still hard at work on the game, but the two-man team has also been working on a really cool new teaser trailer. Below, you'll find a delightful bit of footage that says a lot about Gasketball's style and tone, as well as its creative direction. We suggest giving it a look, even if you're a little cold on the idea of a basketball game. This thing has changed more than a few minds so far.
We'll have a lot more about this game as it gets closer to release, so look out!