The future is an amazing place. Here I am flying back home to Chicago, on the internet, writing about iPhone games and making a silly amount of iPhones buzz in the process. (Hello, TouchArcade app users!) Anyway, a few weeks ago Apple threw their hat into the weird freebie promotion ring. Cut the Rope: Experiments ($0.99) was the first game to get this freebie treatment, and this week, Sonic & Sega All-Stars Racing ($3.99) is seeing the same.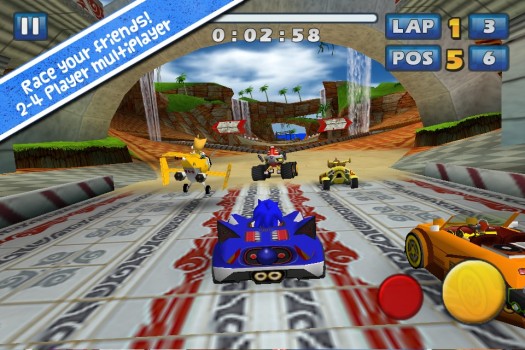 Sonic & Sega All-Stars Racing is an amazing game, and you shouldn't miss it while it's free. It's universal, sports online play, and even has a cool AirPlay mode if you've got an Apple TV.
If you need an additional push over the edge to download this game while it's free, you could check out our review, but in doing so, you'd be wasting vital time that could be used for racing.