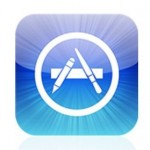 The ability that developers have to completely control the pricing of products they put on the App Store has really turned traditional software pricing models on their ear. Now 99¢ seems to be the price many game developers try to target, and finding any excuse to have a sale has proven a popular marketing tactic for the iOS developer (just look at the staggering number of games on sale for this Memorial Day weekend, as an example).
Also, making games temporarily free has proven to be an important promotional tool to gain visibility and increase a user base for your game on the App Store. This has created a whole new market of 3rd party free app promotion websites and services, but it appears that even Apple might be getting in on the free game bandwagon as well.
As the official App Store Twitter account posted earlier today, Cut the Rope: Experiments ($0.99) is their "Free App of the Week", which as far as we can tell is the first of its kind.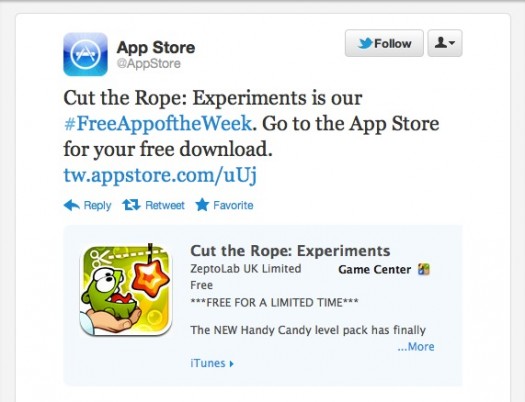 Now, don't get me wrong, Cut the Rope: Experiments is an excellent game and you should go download it immediately if you haven't already, no matter what the promotion is. But it will be interesting to see if this is something that Apple keeps doing each week, and I'd be curious to know how they decide on which games or apps to promote.
Also worth pointing out are a couple of changes to the App Store itself, like the disappearance of the Staff Favorites section, the changing of the iPhone/iPad Game of the Week banners on the front page of the App Store to "Editor's Choice", and the ridiculously large banner text denoting Cut the Rope: Experiments as the App of the Week right on the game's App Store page.
We'll keep our eye on the App Store to see how this continues to evolve, but with visibility being such a big problem it's nice to see Apple exploring different promotional ideas on their own.
[Hat Tip to Jeff Scott's Twitter]