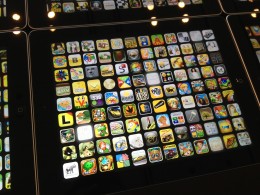 We're at WWDC this week, and if you follow us on Twitter (@hodapp, @JaredTA, @nicholsonb, @blakespot, and @arnoldkim!) it's likely already obvious to you that we enjoy the WWDC party scene… Potentially too much. Well, tonight we're hosting our own party. Everyone is invited, and historically we have had some pretty incredible crowds of game developers as well as other people to network with that are highly relevant to the mobile gaming world. If you're in town for WWDC, or just a local San Francisco game developer, feel free to swing on by.
Here's the details:
WHEN: Wednesday June 13th, 7:00 PM (TONIGHT!) until they kick us out.
WHERE: Bin 55 in the lobby of the Marriott Marquis at 55 4th St.
WHY: Because there's way more cool people we want to meet than we have meeting time slots for!
The TouchArcade WWDC party is sponsored in part by:
So, yeah, stop by tonight any time after 7:00! Find someone from TouchArcade, and trade us your industry-relevant (or at least vaguely industry-relevant) business card and we'll hook you up with a bracelet that turns on the free drinks. Tell your friends!