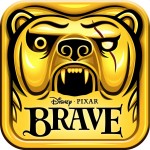 Early last week I had the opportunity to visit Pixar's campus just outside of San Francisco to get some hands-on time with Disney Mobile's newest iOS title which will tie into their upcoming movie Brave. Disney has been pleased with their mobile gaming efforts thus far, noting especially the success they've seen with their popular puzzle title Where's My Water? ($1.99). The star of that game, Swampy, has been a hit as well, and has spawned merchandise, animated cartoons, and much more planned for the future.
They note that Swampy was the first character they created from scratch for a game that actually "feels" like a real Disney character, and the audience has responded incredibly well to him. However, some of their previous mobile efforts that have tied into their existing properties haven't seen the prolonged success of Swampy and Where's My Water? They knew that for Brave they had to come up with a mobile game idea that would be a perfect fit both for the movie and for Disney itself.
It was last September that Bart Decrem, Senior VP at Disney Mobile, picked up a game that had been building up some buzz in the iOS gaming community. The game was Temple Run (Free) from Imangi Studios, and he knew after spending some time with the title that the premise behind the game would fit beautifully with Brave's story and characters. He tucked that idea in the back of his mind, but of course as we all know in the months that followed Temple Run went on to see an uncanny amount of success, with more than 80 million downloads and 16 million daily active users to date.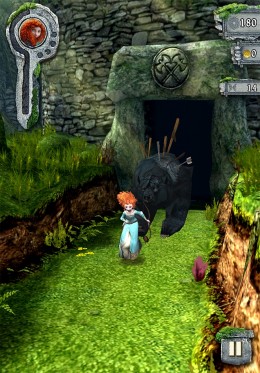 The explosion of popularity for Temple Run didn't change the fact that it would be a great fit for Brave. The star of Brave is Merida, a plucky young princess who's an experienced archer and more interested in getting into adventures than doing proper royalty type stuff. The antagonist in Brave is a ferocious demon bear named Mordu, who had attacked an encampment of the royal family when Merida was a little girl and bit her father's leg clean off.
Now that Merida has grown up into a young lady, Mordu is back to wreak havoc on the land, and this plays perfectly into the premise of Temple Run. Merida plays the role of Guy Dangerous, the default character in Temple Run, and Mordu acts as the evil monkeys who are constantly chasing her down. The end result is known as Temple Run Brave, and it really does come together as a wonderful tie-in game for the movie.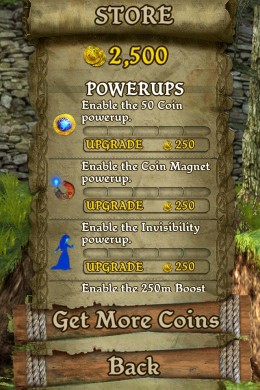 Temple Run Brave is Temple Run through and through. Same auto-running, same tilting to collect coins, same swiping to change directions. It feels great because Temple Run feels great, and Temple Run Brave is essentially forged from the same steel. There is a new mechanic however. Since Merida is an archer, while you're running along in Temple Run Brave you'll come across special archery sections. Targets appear on either the left or right of the environment and must be tapped to shoot an arrow into them. Hit all the targets in a section in a row and you'll earn a bonus.
The mechanics in Temple Run Brave feel extremely tight thanks to being built upon the already strong foundation of the original game. I'm also really impressed with how seamlessly the new archery mechanic blends into the rest of the game, adding an additional element of strategy while you play. The Brave edition of Temple Run will also contain all the same in-game store items and unlockables, as well as similar IAP options to beef up your in-game currency. Unlike the original Temple Run though, Temple Run Brave won't be free and will instead cost 99¢. You'll get an instant 2500 coin bonus for the price, however.
You can see all of this in action from this hands-on video of Temple Run Brave taken during the event last week.
I had a blast with Temple Run Brave during my time with it, not surprising since I enjoy the original Temple Run so much. The Brave edition feels different enough to give longtime Temple Run fans something new to dive into, and its visuals are a big upgrade and feel right at home with the world of Brave. Keep your eyes peeled for Temple Run Brave to hit the App Store on June 14th for 99¢, and check out the Brave movie, which I was able to see the first 30 minutes of during the Pixar event and thoroughly enjoyed, when it arrives in theaters on June 22nd.