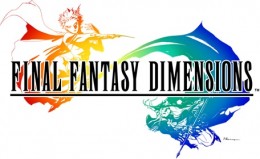 E3 always has surprises, but most big publishers announce what they're taking or showing off in advance of the Los Angeles based event. Square Enix just did this, and revealed a new, or at the very least upcoming, 2D Final Fantasy game in the process. Yay!
Final Fantasy Dimensions as its called will draw from Final Fantasy both old and new, delivering "the best of Final Fantasy, retro and fresh alike." What this means is that it'll include (a) a Job system and (b) one of those silly 'dark versus light' stories, which we're sure will keep you on the edge of your seat.
New might not be the best word for Dimensions. Joystiq thinks this might just be a port of Final Fantasy Legends, which was a series of games released episodically on Japanese cellphones in 2010. We'll see if this is the case, but we're guessing Joystiq is right.
Dimensions is due out on iPhone and iPad this "summer." An Android version is hitting alongside this release, too.