It's another week and another Wednesday, which means we can check out all of the new releases that will be hitting tonight as the Earth slowly rotates and changes the day to Thursday. There's nothing terribly high profile coming out tonight, but that just means there's extra potential for some sleeper hits. Also, don't forget that a couple of games jumped the release gun this week and are already available, like Blowfish and Crescent Moon's Razor: Salvation (Free) and Get Set Games' highly anticipated auto-running platformer Mega Run (Free).
As always these games will be available in the US App Store at 11pm EST, but may already be available in your own country's App Store depending on your time zone.
---
Affliction: Zombie Rising, 99¢ – Forum Thread – Yes, another zombie shooter, but this one has a very intense and creepy atmosphere. It utilizes the gyroscope for an almost augmented reality type of experience, but virtual controls are there too for those without a gyroscope.
---
Axon Runners, $3.99 – Forum Thread – A 3rd-person auto-running game with beautiful 3D visuals. 15 different levels to charge through with a variety of different hover boards to use, each with unique attributes. And, apparently this game is sponsored by Coca-Cola? I'm more of a Pepsi man myself, but I'll bite.
---
Duckers, Free – Forum Thread – The newest title from Retro Dreamer, play as a host of adorable animals as you use swipe gestures to dig deep down into the ground. And not just the ground, but also, cake! Duckers looks so cute I'm on the verge of vomiting rainbow confetti (that's a good thing).
---
Expand It!, 99¢ – Forum Thread – I'll be honest, I'm pretty tired of blocks with cartoon faces, but FDG has a great track record of offering excellent puzzle experiences. And it helps that the gameplay premise is pretty interesting. Here you'll need to strategically increase the size of the derpy-faced shapes to reach a certain height goal.
---
Fantasy War, Free – Forum Thread – Another fantasy themed RPG, how original! This one seems to have a larger focus on the turn-based battling system, and seems like it might be a competent package if you aren't sick to death of this genre. It will likely be defined on how fair (or unfair) the freemium pay model is implemented.
---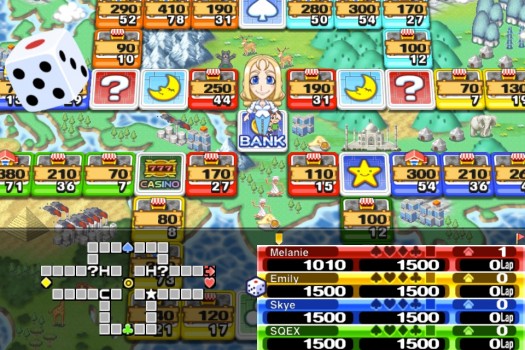 Fortune Street Smart, Free – Forum Thread – Apparently, Fortune Street is a popular board game in Japan that was created by Yuji Horii of Dragon Quest fame, and Square Enix has finally brought a smartphone version over to the US. It's a free download that comes with one map, but IAP for a full game unlock as well as a ton of DLC maps reside within. That might not be that big of a deal if you end up digging the free version, though. I'm very curious to check this one out.
---
Heroes Call, Free – Forum Thread – If you've got that Diablo III itch while on the go, this seems like the most competent option available on iOS at the moment. Also noteworthy is that it utilizes the freemium model but seems to do so in a pretty fair way, allowing you to earn in-game currency through play or by going back to grind older levels. Definitely looks worth at least checking out since it's a free download.
---
Inferno+, $2.99 – Forum Thread – Radian Games have been on fire with their iOS releases, and their latest looks to continue that trend. Inferno+ is an enhanced port of the Xbox Live game of the same name, and looks like a more structured approach to a dual-stick shooter than your standard endless arcade variety. Plus, I'm a sucker for the glowy-neon-retro looking visuals in their games.
---
Little Things Forever, $2.99 – Forum Thread – The sequel to 2010's surprisingly enjoyable searching game. Tiny pictures of objects in a collage create a picture of a bigger object, and your job is to comb over the collage for the correct tiny picture, which itself is also a collage. It's like mosaic Inception, or something. Simple but fun, and it has lots of character.
---
Ring Fling, $1.99 – Forum Thread – I'm a sucker for same-device multiplayer games, and Ring Fling looks like a good one. Up to 4 players picks a corner and literally fling rings towards their opponents' zones. There's also a 2 player mode as well as a computer AI to play against if you're rolling solo. Gives me a total Hungry Hungry Hippos vibe, and as someone pointed out in the forum thread it's also very reminiscent of the '80s board game Crossfire.
---
Rock(s) Rider, $2.99, Lite – Forum Thread – Another Trials-style side-scrolling motorcycle stunt game. Actually, this one looks an awful lot like a straight up Trials clone, but it does seem to want to offer a few twists. There's 3-wheeled bikes, side-by-side boss battles, and grinding on objects on your bike's pegs. It looks really pretty, but there are so many of these kinds of games already I'm hoping this one will be fun enough to hold my attention.
---
Soctics League, 99¢ – Forum Thread – An interesting take on soccer but with a turn-based online multiplayer focus. It looks like a re-imagined take on the developer's previous title from 2009 Soccer Tactics. You'll set the moves for all of your "players" first and then set them loose to see how it all shakes out. There's a free version too which nixes the online portion but lets you check out what the game is like first.