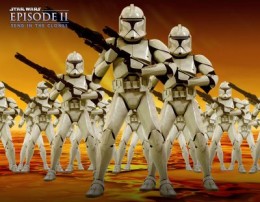 There was quite a debate in the TouchArcade command center today regarding whether or not we were even going to post this, as our community seems to simultaneously hate it when we post about clones, but absolutely loves talking about them. So, we're going ahead with this along with the caveat that we're trying to get in touch with all parties involved to get to the bottom of things. With that out of the way, let's back things up a bit.
Johann Sebastian Joust is a no-graphics game designed for the PlayStation Move controller by Die Gute Fabrik. The game seems to be a staple at any indie game developer party, and features Bach's Brandenburg concertos as the soundtrack. The idea of the game is to jostle the PlayStation Move controllers of the other players to get them out. The threshold of how much the controller can be jostled is adjusted in time with the music, and it's a ton of fun to watch people playing. It's a very difficult game to explain, so, watch this trailer:
Today, ustwo released an eerily similar game called Papa Quash (Free). I suppose we should cut right to the chase here, so, assuming you've watched the above video, imagine that… But with dub step:
The rabbit hole goes much deeper here than your typical tale of game cloning. According to ustwo marketing director Steve Bittan, the concept of the game was actually cooked up by Sam Pepper, a YouTube pseudo-celebrity whose original claim to fame was appearing on the TV series Big Brother.
Allegedly, Pepper contacted the guys at Die Gute Fabrik who gave him to go ahead with the game and wished him luck. Die Gute Fabrik fired back via Twitter by saying, "Just to be clear, we have never and would never approve, give permission, or encourage anyone to clone of any of our games." Where things get interesting in all this is that Mills, the ustwo co-founder and self-proclaimed Chief Wonka, has been very vocal in the past regarding cloning. In the past, he's told PocketGamer:
"Making games, entertainment, a new design, a product should always be about unearthing something that makes you proud no matter what happens on the financial side… Fakes and copycats quite simply have to absolutely f**k off to another paradigm."
Bittan, speaking with Edge continues:
"This is a quick, short-term project, in and out of the door very quick. Obviously the concept is quite similar. We don't want to be dragged into it too much – it's not anything to do with our app division.

We don't copy – everyone is influenced by certain things. It's like saying Sega is copying Mario or something. Whale Trail people said was similar to Tiny Wings, but we went back to the drawing board with that. If people think we're happy to clone people they're very much mistaken."
We'll see how it all shakes out once more people start talking. We've yet to hear back from ustwo ourselves, and Die Gut Fabrik is preparing a statement on the matter. Now, I'm going to go sigh a lot.