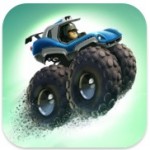 In mid-March, Ubisoft and RedLynx released MotoHeroz (Free) an iOS port of the WiiWare side-scrolling platform racer that felt like a close cousin to the studio's crazy popular Trials HD series. We enjoyed MotoHeroz in our review despite its somewhat tough progression and overall high level of difficulty. Still, for fans of hardcore trial and error games that tasked you with perfection through repetition, MotoHeroz was money well spent.
Today, however, no money needs to be spent in order to enjoy the punishment that MotoHeroz offers. A brand new update has hit and to celebrate both the iPhone and iPad versions of the game are currently free. The update contains two new level packs each with their own new vehicles, as well as support for having 3 online friend leagues going on simultaneously.
If you haven't checked out MotoHeroz yet, it's definitely worth a look while free. The difficult nature might be a turnoff to some, but I personally found the challenge welcome and have enjoyed playing certain levels over and over again until you have that run that's just right. Now with new content added, it looks like I'll be getting sucked back into that cycle once again, which I'm definitely not complaining about.