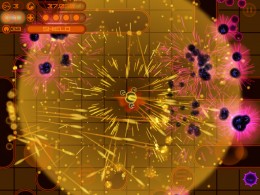 Ballistic SE [$1.99] and Fireball SE [$1.99] creator, Luke Schneider, has been porting another Xbox Live Indie Game to the iPhone and iPad. Inferno+, which features newer high resolution assets for retina screens, is coming later this month or earlier next. Luke dropped us a really awesome slow-motion teaser trailer that shows off a smidgen of the game's creative twin-stick action, which seeks to combine elements of Geometry Wars (!) with the structure of Gauntlet (!!).
Luke describes the trailer in his latest blog post, shedding some light on what he's trying to shoot for:
While the launch trailer will cover a lot more of what's in Inferno+, for the teaser video above I only wanted to show a single quick sequence to give a taste of the game. Obviously it's in slow motion, and zoomed in a bit, so I cheated a little, but I think that's OK.
We've been pretty impressed with what Luke has released so far, so count us in for a day one download. Whenever we get a final build, we'll shoot you a review. Hah. Get it? It's a twin-stick shooter. We're going to shoot our thoughts at you… like you'd fire bullets in a shooter. We crack us up.