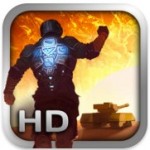 One of the absolute finest games available on the App Store is 11 Bit Studios' Anomaly Warzone Earth ($3.99). Don't believe me? Well check out our glowing 5 star review of the game from when it launched on iPad last August, and then consider that we chose it as our runner up for Game of the Year 2011. It's not just us, either, as Anomaly has received critical praise across the gaming universe as well as plenty of award consideration, including winning a prestigious Apple Design Award for the Mac version.
So yeah, Anomaly Warzone Earth is good. And today it gets even better, as 11 Bit has just released the latest update for the game which adds high resolution Retina Display support for the new iPad. Anomaly was a gorgeous game to begin with, and it held up pretty well even on the new iPad anyway, but the difference this update makes is quite dramatic. All the text and UI elements are razor sharp and the in-game visuals are as crisp as they've ever been, practically popping right off the screen.
Of course, while Anomaly Warzone Earth really sings on the iPad, it can also be played just as well on the smaller screens of the iPhone and iPod touch. The original iPad version became Universal late last year, and to celebrate the new update it is currently on sale for just $1.99. If iPads aren't your thing, the iPhone/iPod touch only version is also on sale for 99¢ [Link]. Basically what I'm getting at is that no matter how you do it, you must experience Anomaly one way or the other, and with the new update and sale now is a fantastic time to dive in.