If you pay attention to the world of iOS game music, you might already know Whitaker Trebella's work. He has composed themes for games that include Super Stickman Golf [$0.99], Tilt to Live [$2.99] and Velocispider [$1.99]. But now he's taken on the role of game developer. Trebella's first game, Polymer, is due to hit the App Store soon, and we've had a chance to play with a recent build. It's a strategic shape-creating game, in Trebella's words, enhanced with a great soundtrack.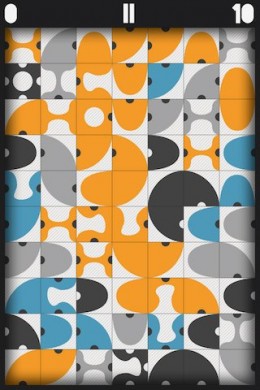 A polymer, in the parlance of the game, is a complete shape, one with no unfinished edges. You achieve this by sliding rows and columns back and forth to move pieces into place. A skilled player might be able to use every piece on the board, but each piece you move takes six or nine others with it. Larger creations become exponentially more difficult to make without disruption, but they're oh so satisfying to reach for. It's almost a shame to destroy them, but that's where the points come in.
Like so many developers, Trebella came to iOS with no prior programming experience. But his time composing for big names of the indie scene convinced him that he needed to make a game of his own. A little study, a little elbow grease, and a year and a half later we (almost) have Polymer. But playing the game, you can see how much Trebella picked up in his time spent on the periphery of iOS development. It's ridiculously savvy to the realities of both touch screen gaming and the iOS market, things most first-time developers struggle with.
It should come as no surprise that Trebella brought his musical talents to bear on Polymer. It isn't a music game, but it can be quite musical. Each of the game's three modes has its own soundtrack. You enhance that soundtrack while you play, destroying polymers that chime out musical tones. Each track is in a different key, and the sound effects, notes in the chromatic scale, are designed to fit within the key of the current track. In laymen's terms, let's just say the sound blends beautifully with the music.
Polymer's three modes give you a lot to play with. One lets you race for the highest score you can hit in two minutes, and it's polar opposite is a mode that requires you make the best single polymer you can in any length of time. The third ratchets up the tension in a sort of survival situation: you must destroy ticking time bombs by incorporating them into polymers. They come faster and faster until you eventually explode. The game also has a nifty unlockable system that introduces you to each element of the game piece by piece.
We don't have a release date quite yet, but Polymer has been submitted to Apple for approval so it's just a matter of time. Stay tuned—we'll take a closer look on release and give you our final verdict. An educated guess in the meantime: it looks like Polymer is destined to eat a lot of the hours of thoughtful gamers.