If you've ever thought that the classic edutainment title The Oregon Trail was lacking in the zombies department, developer The Men Who Wear Many Hats (yes, that is their name) have got you covered. They've taken all the core mechanics of the original game and plopped them down into a modern post-apocalyptic setting that is littered with the undead.
Your goal is to make it from Washington DC to Oregon via a long and drawn out route that will take you through a host of cities and landmarks. You'll forgo a covered wagon for a station wagon, and the looming threat of zombie infection is added to the laundry list of other calamities that can befall your group while on the road.
This unholy combination of historical education and zombies is known as Organ Trail, which was released more than a year ago and can be played via a free Flash version on The Hats' website. Here's a few screens from that version.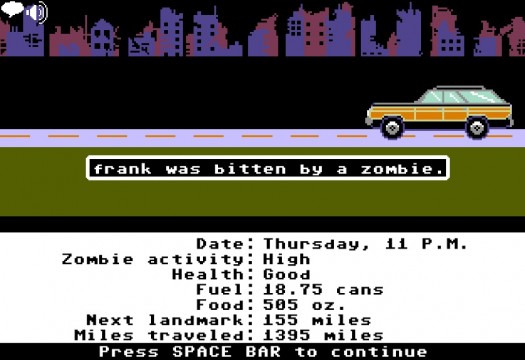 The reason I'm bringing all of this up is because The Hats are in the midst of porting a Director's Cut version of Organ Trail to iOS, and they were showing off a playable version on iPad during PAX last week. Kotaku has a hands-on video of the iPad game complete with some commentary from the developer, who notes that Organ Trail on iOS will have several enhancements over the original Flash game, including a reworked interface for the touch screen.
The Hats team hopes to have Organ Trail: Director's Cut out by the end of May, and in the meantime I'd definitely suggest checking out Kotaku's video as well as the Flash version of the game, which is a ton of fun.
[Via Kotaku]