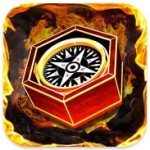 I've made no attempt at hiding my love affair with the Azkend series of puzzle games. The original Azkend ($2.99) was (and still is) one of my favorite puzzle games of all time. It had a great difficulty curve, a constant stream of unlockables to keep you interested, and did a fabulous job at dangling the next unlockable in front of you to endlessly keep you playing one more game. Oh, and the chain-forming matching mechanic is pretty sweet too. Not too long ago, Azkend 2 ($5.99) hit, and I was ready to shout out my window and tell the world how incredible it was… That is, until I got a little deeper into the game.
As Nissa explains in our review, the sequel features everything we loved about the original Azkend, and provides some great first impressions. Then the difficulty curve ramps up, and the game introduces more types of tiles. It's at this point that Azkend 2 turns into the best part of any LMFAO song, which, in a puzzle game, is not a good thing. In other words, you'd reach a point where there were just too many types of tiles, leaving no available matches, forcing the game to re-shuffle the tiles. Sometimes you'd even get multiple re-shuffles in a row.
Well, an update hit earlier today which seems to totally fix this. The puzzles are now rebalanced in a way that you're not hunting for the single match before the board reshuffles. If you were (understandably) holding off on the game after reading our review, it's safe to pick up now. Or, if you were like me, and just shelved the game after getting frustrated, snag the update and give it another shot.
They've made some other tweaks and bug fixes too, including doing some logging to potentially further improve game balancing as well as adjusting the colors of some tiles to make them more distinct. The one down side of this update is that I'm pretty sure that Azkend 2 is now going to completely suck up my free time this evening.
I'm OK with that, I think.
NOTE: Right now I'm only seeing this update for the universal HD version, but it'd make sense that the iPhone-only version should be following very shortly.