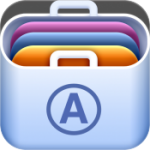 If you're familiar with our sister site AppShopper, you're likely all over the various search and RSS functionalities of the site. If you're not, I go over a few neat tricks in a post from Labor Day on how to find games on the cheap or even free utilizing AppShopper. Well, AppShopper has another trick up its sleeve, making it easy to find new games and apps that have been recently updated to support the Retina Display of the new iPad.
Check out these two searches:
Those two links are updated as close to real time as Apple allows, and they can be subscribed to in your favorite RSS reader so you can always stay on top of what is being released. Pretty snazzy, eh?