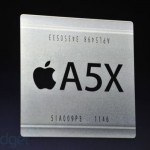 New iPads are popping up all over Asia, and aside from a variety of unboxing and comparison videos, it seems that the first set of GLBenchmark 2.1 [$4.99] results have come in.
Benchmarking the graphics performance of the new iPad also showed significant improvement over the iPad 2, with benchmarking tests boosting performance from 90 frames per second (fps) to 140 fps in the GLBenchmark 2.1.1 Egypt offscreen test and from 146 fps to 250 fps in the GLBenchmark 2.1.1 Pro offscreen test. Similar data had previously been uploaded to GLBenchmark's site, although its authenticity has not been confirmed.
If these results turn out to be true, the new iPad could be a absolute beast in the gaming department. Ever since the announcement of the new iPad, our community has been justifiably worried about the graphical performance. I really hope these benchmarks are real, because, wow.
Keep in mind, like most benchmarks, take these alleged results with a grain of salt. We'll have to wait to get our iPads on Friday to see how the actual real-world on-screen performance actually is.