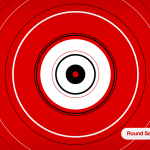 Back in January we brought you the news that Semi Secret Software, the studio behind Canabalt [$2.99], was working on a new game with Greg Wohlwend, best known for his work on Solipskier [$0.99]. We've had the chance to get our hands on an early build of the game and can give you some of the details.
First up, Hundreds is a minimalistic puzzle game. As you can see from the screenshots, it has a stark black, red and grey look, one that's carried through every part of the game. It plays something like Surfacer [$0.99] or similar titles: you have a series of circles, and touching them makes them grow until you hit a certain goal. In this case each circle counts up toward 100, the total you need to hit between them all.
But that's where the similarities to other titles end. The circles move around each level, and as a general rule of thumb they can't touch anything while you're touching them. The play style is reflexive— it's vital to time touches for the moments they aren't about to path into an obstacle. Over time you'll need to use all your fingers, and while it isn't an official mode the game is surprisingly fun to play with a friend.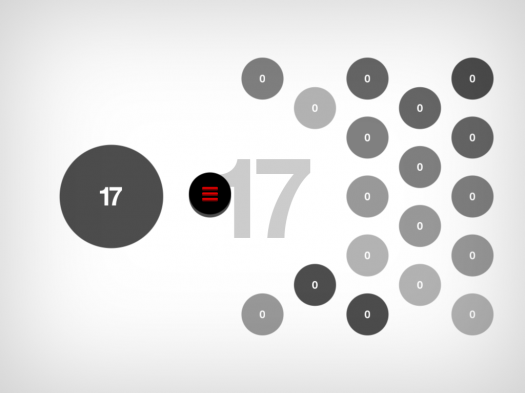 We've run through several of the game's levels, and they get ridiculously complex. There are so many different pieces that interact with the circles in different ways, and learning how each of them work seems like it's going to be quite rewarding. It looks like the game going to get very difficult, and Semi Secret's Adam Saltsman tells us that one of his goals is to create a game that may not be completed by every player, but will reward the ones who stick it out.
That may just be the coolest thing about Hundreds: for dedicated players, it will be two complete (and completely different) puzzle games in one. We haven't had a chance to see this in action, but the overarching narrative will be portioned out in a very novel way. Much of it will be revealed through obscure ciphers and codes, fleshing things out for players who are willing to really dig in and maybe even cooperate with others to work through them. This adds a whole other level of gameplay on top of the usual Game Center meta-layer and what sounds like some very cool community-wide statistic tracking.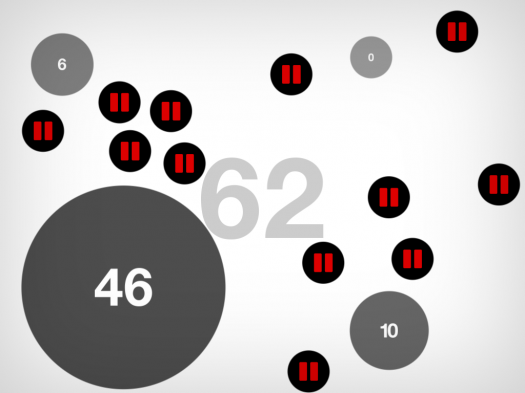 Semi Secret isn't ready to announce a release date, but the company currently aiming to release Hundreds before this summer. It will launch on iPad for sure, and the company is currently considering whether it will also be suitable for smaller devices.