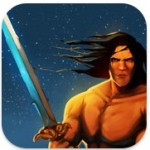 Last month we reported that an iOS remake of Barbarian – The Ultimate Warrior, aka Death Sword, was in the works courtesy of developer Microids and publisher Anuman Interactive, and after a couple of false starts in the past week, the game does appear to officially be available in the App Store.
Renamed Barbarian – The Death Sword [$1.99/HD] for iOS, the game is a one-on-one fighting game that originally released in 1987 for the Commodore 64 and most of the other popular computers at the time. Gamers lauded the competitive gameplay of Barbarian in the burgeoning fighting game genre, but most of its widespread notoriety was due to some racy packaging and the ability to lop off your opponents head in a shower of blood during battle.
The iOS version of Barbarian is completely redone with 3D visuals, several new modes and unlockables, and cross-platform local multiplayer. I've spent a few minutes with the game on my iPhone, and although I never played the original, it seems like it might be kind of cool. It's certainly got raciness and gore in spades, but I'm not so sure about the gameplay. It feels very basic and clunky, but it also feels like there might be some underlying depth to the whole thing that I have yet to figure out.
We'll be spending much more time with Barbarian – The Death Sword in the coming days to adequately get a feel for it, and there's currently a discussion of the game and further impressions in our forums.