Tim Tebow is a starting NFL quarterback who throws just about as well with his hands as he does with his feet. But he wins games, and he wins them in some of the most dramatic ways you'll ever see on a football field. His fourth quarter heroics resonate with people. USA Today correctly called him a "one-man cultural blitz" this season.
He also does this thing called "Tebowing," which probably has a larger hand his cultural blitz-dom than his game-winning drives. Basically, whenever Tebow accomplishes something awesome like, cap off a game-winning touchdown drive or successfully put Gatorade in his mouth, he gets on one knee and bows his head. It's turning into the new planking, basically.
Since Tebow is so hot and so different at the same time, we suppose it's only natural that he's now been further immortalized in an iPhone and iPod Touch game. Developers Ethan Dunlap and Kenneth Kunkel recently debuted Tebit Time [$.99], a game that seeks to capture the essence of Tebow with four in-game mechanics or less.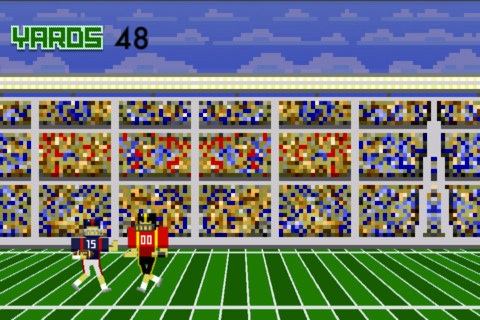 Yep.
It's an endless runner that stars a Tebow look-a-like and prominently features a looping 8-bit rendition of the FOX Football theme. With a touch on the screen you can hurdle over an object or opposing player, stiff-arm, or even take a moment to Tebow on the field. Doing this at specific times adds a modifier to your overall score. There is no throwing mechanic, which is probably a good thing.
This is an exceedingly simple game played entirely on a cutesy lo-fi field with a seemingly infinite amount of opposing players and NFL junk to jump over. Scoring revolves around yardage; the more you get, the better. Our best score is 128.
In a lot of ways, this seems like more of a gag than a game. But in a conversation with us, Dunlap seemed genuine about his admiration for Tebow when we asked, simply, why Tebit Time is a game on the App Store.
"I have been in athletics for a great portion of my childhood, football in specific," Dunlap told TouchArcade. "Despite being on a rather good team, we never managed to win a championship. We made it every year, but always suffered a heartbreaking loss. Even now in my college years a close group of childhood friends and I play in a flag football league and struggle to achieve success, our record is currently 0-8."
"At first I didn't buy into the whole Tim Tebow buzz, but after watching a few of his comebacks he started to appeal to me. I saw a player struggling to be successful, but his desire kept him going. After watching him beat Pittsburg on the first play in over time, I knew that I wanted to do something to pay tribute to him."
"And that is pretty much where the idea came from. I was already working on a runner and just needed to switch a few things and get the graphics in place. Besides, who wouldn't want to "Tebow" in a video game?"
Who wouldn't? Whether this was its purpose or not, Tebit Time is worth your time for the laughs alone. On the other hand, it's also not so great in the most important places; the hit boxes on players and on-field obstacles need some work, and the menus freeze randomly. Buy knowing this.
Also, we can't shake the feeling that this project is probably destined to earn Dunlap and Kunkel a cease and desist notice. Here's to Tebit Time flying under the radar in a very un-Tebow-like fashion.