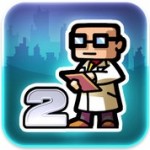 We've been pumped for the release of Ravenous Games' follow-up to last year's excellent platformer League of Evil ever since we got a hold of the first screens last November, and the new gameplay trailer from last week has only stoked the fires of anticipation for the sequel. Well, Ravenous isn't content to wait around for the normal glut of Thursday releases, and have released League of Evil 2 [99¢/Lite] into the App Store just moments ago.
I've been toying around with the game for a while, and it's everything that I hoped it would be. While I adored the pixel graphics of the first game, the new visual style is sharp and attractive, and the entire game runs at a incredibly smooth clip. The same tight virtual controls are here too, along with more than 100 short but sweet platforming challenges with the familiar 3 star and briefcase collection reward system.
The game is available at a launch price of 99¢, soon to be $2.99, and there is a lite version to try out too. We'll be giving League of Evil 2 the full review treatment in due time, but if you enjoyed the first game and crave some more challenging platforming, then I think it's a pretty safe bet to say goodbye to your dollar and say hello to this sequel. As always, you can get even more impressions and discussion on League of Evil 2 in our forums.