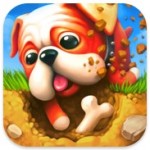 Diggin' Dogs [99¢] from Soap Creative and Chillingo is already being compared to Disney's popular release Where's My Water? [99¢],  since both games use the same "swipe-to-dig" mechanism. But the inspiration for Diggin' Dogs actually came from Soap Creative's online Flash game Truffle Hunter, which you can try on your computer. Personally, I didn't think much of that Flash game, but I'm diggin' Diggin Dogs with its noisy little puppies.
The easy-to-use controls involve a mix of swiping, tapping and tilting. You drag to dig burrows for the dogs to clamber down and swipe to make the dogs jump. Tap to activate and deactivate objects (such as changing gravity orientation), and tilt to make the dogs, coins and various in-game items slide left or right. If you're not a huge fan of tilt controls (like me), don't worry your fingers do most of the work.
To keep the dogs safe (and alive) you must make sure they avoid various enemies and objects, like wailing pirate ghosts, wasps, bats, poisonous toadstools, icicles and – perhaps most harshly – steel gin-traps with sharp teeth. You can also use the traps against your nasty enemies as you clear a path downwards. But don't dig too enthusiastically, because once the screen scrolls downwards it never scrolls back up, so any objects you leave behind are unreachable.
Power-ups come in the form of hats with special powers. Like a magnet-hat that attracts coins through walls, a mushroom hat which transforms toadstools into collectible coins or a spray-can hat for easy pest eradication. Sometimes the dog with a specific hat must assist the other dogs to pass through a level, so you'll need to split the dogs into their own tunnels.
The five chapters (Forest, Snow, Junkyard, Jungle and Volcano) are unlocked by collecting enough bones, and they deliver 60 levels in total. Each setting has different graphics, sound effects, cinematic music and enemies. Alternatively, you can purchase the "golden bone" as an optional in-app purchase to unlock all levels.
Scoring is based on the number of dogs that remain alive when you reach the golden boot at the bottom of the level, plus the number of golden coins collected. Your score is converted into a gold, silver or bronze medal and can be stored in Chillingo's Crystal rankings, but there's no Game Center integration provided this time.
Chillingo have a track record of publishing cute and entertaining casual games and with Diggin' Dogs they've done it again. Although surprisingly, it's not Universal and there's currently no iPad native version (but you can play it in 2x mode). For iPhone and iPod touch owners though, Diggin' Dogs is as entertaining as Where's My Water?, which is a pretty big compliment.