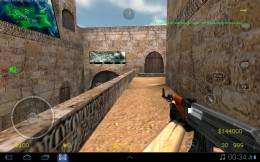 Originally released in mid-1999 as a third party Half-Life modification, Counter-Strike quickly redefined the concept of a "popular mod," and may have been largely responsible for the quick adoption of the Steam platform as players rushed to download Counter-Strike 1.6 on the new service. In its day, Counter-Strike had an absolutely massive following, both from casual players playing on servers online, locally at LAN parties, or even professionally in the various e-sports leagues that were springing up at the time. Hell, some of my very best friends I met either through or because of Counter-Strike. If you were a PC gamer in the early 2000's, you played Counter-Strike.
As mobile devices have exceeded the processing power of the PCs we used to play games like Counter-Strike on, I've found myself yearning for ports of my favorite PC titles. Well, a Russian by the name of FrIuNs has been hard at work on exactly that. He's managed to come up with a surprisingly competent port of Counter-Strike 1.6, built entirely in Unity. It even runs on the iPad:
Unfortunately, since FrIuNs most certainly has no claims to anything to do with Counter-Strike, the possibility of it ever hitting the App Store seems very unlikely. However, if you've got an Android device, you can head over to the thread on XDA Developers and find change logs and download links. Additionally, if you've got the Unity Web Player plugin installed, you can check out this Counter-Strike port on Kongregate.
We've reached out to the developers for more information, and will report back if we hear anything promising regarding the iOS release of this port.